Image: The flag of Turkey painted by the blood of high  school students
About 20 high school students from a central city in Turkey have cut themselves in order to use their blood to paint a flag of the Turkish Republic that was presented to the chief of the armed forces. According to Today's Zaman:
Late last week, a group of Kırşehir students who made a blood-painted flag sent it to Chief of General Staff Gen. Yaşar Büyükanıt, who expressed his approval, saying, "Such a nation is ours." Gen. Büyükanıt's words praising the students' work caused great controversy.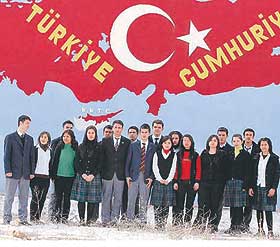 Image: Turkish students who used own blood to paint Turkey's national flag (Source)
This sick act of fascism, thought to be provoked by ultra-nationalist Turks, has been criticized as "dangerous" by Turkish psychiatrist Nevzat Tarhan who draws particular attention to "the recent attacks by young people directed at Christian priests."

 (source)
This news reminds of the abuse of Turkish children by their fascist parents as seen in photos where babies make ultra-nationalist signs and hold real guns.
Leave a Reply
You must be logged in to post a comment.