Five years after Azerbaijan's war against defenseless medieval Armenian burial monuments, khachkars, the American Association for the Advancement of Science (AAAS) has released satellite image comparison and analysis where, in the 2009 data, no trace of the Djulfa cemetery remains.
AAAS' press release reads, in part:
A high-resolution satellite image of a medieval Armenian cemetery in Azerbaijan taken in September 2003 shows hundreds of khachkars, intricate 15th and 16th century burial monuments. In a satellite image from May 2009, however, the khachkars are missing, suggesting that they were either destroyed or removed.

…

"Geospatial images allow us to shed light on regions that are not accessible, providing a visualization tool for events or circumstances that are important to bring to the public's attention but which, without some visual evidence, are less likely to attract attention and interest," said Jessica Wyndham, senior project director of the AAAS Science and Human Rights Program.
The satellite data has been reposted on http://www.djulfa.com/satellite/ – images are sharpened for clearness:
In September of 2003 (upper data), the central area of the Djulfa graveyard appears to have sustained significant damage, but the areas to the northeast and southwest remain largely intact. By May of 2009 (lower data), however, the entire area has been graded flat, apparently by earthmoving equipment.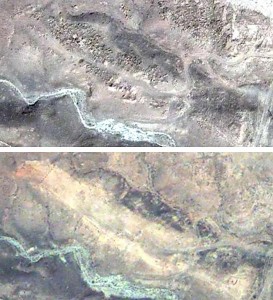 A close-up of the southwestern portion of the cemetery clearly shows the extent to which the area has been scoured. Upper data from 2003; lower data from 2009.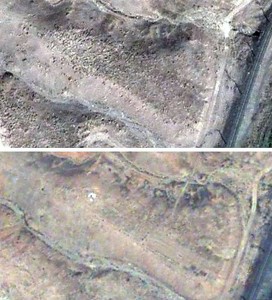 The northwestern area of the Djulfa cemetery in Azerbaijan has also been completely demolished. Upper data from 2003; lower data from 2009.
The AAAS team has also put together a video where Susan Wolfinbarger, senior program associate for the Geospatial Technologies and Human Rights Project, a part of the AAAS Science and Human Rights Program, explains their methodology and findings.
While Djulfa's destruction was until now well-documented, the AAAS study conclusively, scientifically, and objectively confirms what Azerbaijan can no longer deny without ridiculing itself and what UNESCO – the organization charged with protecting our global heritage – can no longer keep silence on without discrediting its mission.
What UNESCO must do is to tell Azerbaijan that the former won't add any new monuments from the latter to the World Heritage List until Azerbaijan's authorities acknowledge the destruction at Djulfa and prosecute the perpetrators of this crime against world culture. That's what the petition at http://www.thepetitionsite.com/takeaction/235/907/968/ demands and I hope that you will take one minute to add your signature to it.
The Djulfa cemetery no longer is; the satellite imagery can no longer be denied, and UNESCO can no longer keep its mouth shut. Please unshut UNESCO's mouth by taking action.