A Spanish journalist, who was accidentally injured in an 80s attack by Armenian fighters in their radical efforts for recognition of the Armenian Genocide, has written another book on a forgotten topic that almost had him killed.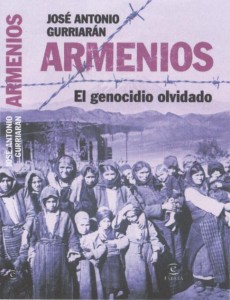 Image: The cover of "Armenia: The Forgotten Genocide" from José Antonio Gurriarán's official website
According to the Spanish-language El Pais, José Antonio Gurriarán's second book on the extermination of Ottoman Armenians during WWI, "Armenia: The Forgotten Genocide," was released on May 2, 2008 in the Cultural Club of Barcelona.
Telling the forgotten history of the Armenian Genocide to a Spanish audience, Gurriarán's new book on the subject is the second one two and a half decades.
Back in 1982 Gurriarán had published "La Bomba," a book referencing his injury in an attack by ASALA (Armenian Secret Army for the Liberation of Armenia) members that opened his heart to a silenced story he has not been able to forget.
According to Wikipedia, in December 1980 José Antonio Gurriarán, a 39-year-old journalist at the time:
"left the building of the newspaper "The People" (Pueblo) and entered a telephone booth to talk to his wife. The plan was to go to see a movie by Woody Allen and then to have a dinner at a restaurant. It was the end of the year. When Jose Antonio put down the headset two bombs exploded in the nearby headquarters of airlines Swissair and TWA was. Nobody died but among the 9 injured was Jose Antonio.
As soon as he was released from the hospital, Jose Antonio wanted to know who made that attack. Still in the hospital, where he struggled to save both his legs, he started to read books and materials about the case and the history of the Armenians.
Combining therapy recovery with the detailed study of a nation, in 1982 he found and met the leaders of ASALA (Armenian Liberation Army for the Liberation of Armenia) in Lebanon. Militants were covered their faces with balaclavas and never left the Kalashnikov throughout the day. The Spanish journalist, relied on his cane, gave a gift, a book by Martin Luther King, to the leader of the Armenian group, to think about the path they have chosen.
Soon after the incident, "La Bomba" was released, telling the personal experience of a Spanish journalist and the tragic story of survival of a whole nation."