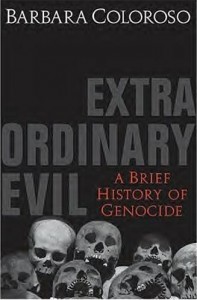 Globe and Mail from Canada reports that a nationalist Turkish group has succeeded in banning a recommended High School book on Genocide. The banned book, which included a chapter on the WWI extermination of Ottoman Armenians, has been replaced by works of two genocide deniers.
A book about genocide has been pulled from the recommended reading list of a new Toronto public school course because of objections from the Turkish-Canadian community, the author says.
Barbara Coloroso's Extraordinary Evil: A Brief History of Genocide was originally part of a resource list for the Grade 11 history course, Genocide and Crimes Against Humanity, set to launch across the Toronto District School Board this fall.
The book examines the Holocaust, which exterminated six million Jews in the Second World War; the Rwandan slaughter of nearly one million Tutsis and moderate Hutus in 1994, and the massacres of more than a million Armenians in 1895, 1909 and 1915.
[…]
Ms. Coloroso, a best-selling author of parenting books, said she wasn't surprised her work was removed, given that "ever since the book came out, the Turks have mounted a worldwide campaign objecting to it, which is not surprising because of the denial of the genocide."
She said what upset her was not so much that her book had been pulled, but that it was replaced by works by Bernard Lewis and Guenter Lewy, whom she refers to as deniers of the Armenian genocide.
"I knew when I wrote Extraordinary Evil that I would anger some genocide deniers," she wrote to Ms. Connelly. "I am disappointed that a small group of people can bully an entire committee. …"
[…]