After a year of skirmishes and angry rhetoric in the Nagorno-Karabakh territorial conflict, Armenia and Azerbaijan have released a hopeful joint statement, committing to "resolve all controversial questions in a peaceful manner."
One can't help but wonder whether the power of the white powder of Sochi, the Russian resort of the 2014 Winter Olympics, has engendered positivity that has lacked in previous meetings. According to media reports, Azerbaijani president Aliyev joined the host, Russian president Medvedev, in skiing while Armenian president enjoyed snowmobiling. Not that either of the South Caucasus presidents need more partying, but partaking in joint recreational activities is seemingly a good way forward.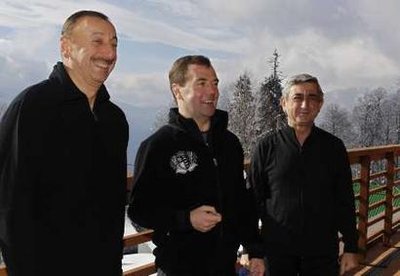 via Reuters
Leave a Reply
You must be logged in to post a comment.