A response from Armenia's police regarding a domestic violence petition is hopeful but confusing.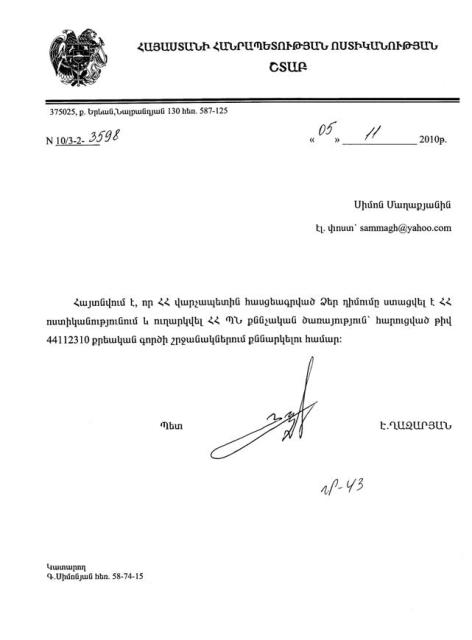 A letter addressed to me signed by the head of Armenia's national police headquarters Eduard Ghazaryan states that the petition addressed to the Prime Minister (demanding, in part, justice in the death of Zaruhi Petrosyan, a victim of domestic abuse) has been received by Armenia's police and forwarded to the Investigative Service within Armenia's Ministry of Defense (an agency created in late 2008, according to an interview by the unit's chief Armen Harutyunyan) for "discussing it in the framework of criminal case 44112310."
The unit, according to its chief, is set to investigate crimes committed by contract-based servicemen of Armenia's army while on duty.
Zaruhi Petrosyan's husband Yanis Sarkisov (who killed Zaruhi with his mother)  is a contract-based serviceman in the Armenian military. But was he on duty when he murdered his wife?
At first, I took the letter as a positive sign.
It is awkward, however, that the military investigators are looking into the case of domestic violence.
They do not have, as far as I understand, any authority to prosecute Zaruhi's other killer – the mother-in-law – neither do they seem to have authority to investigate the possibility of the brother-in-law's involvement (two specific demands that our petition made).