Amid a 15% decline of GDP and consistent 26% poverty in a country of just three million citizens, Armenia's parliamentary chamber has gone through an extreme makeover at the cost of $1.3 million dollars.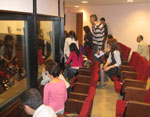 via Hetq, a glassed cubical for the media
True, it looks very attractive – just like the luxurious cars that Armenia's oligarchs – many of whom have a seat in the parliament – ride. But is the money wisely spent on the new chamber? Some might say yes – after all, the chamber will eventually become the house of a democracy that Armenia's citizens secretly hope for.
Yet, despite president Serz Sarkissian's praise of the flamboyant chamber as a ride on the "path of democracy," the new chamber of the National Assembly doesn't even have a public gallery (for citizens who want to see their lawmakers in action) – the otherwise only reasonable need for a makeover. Even the media is complaining from the glassed cubicals they have been assigned. This is a house of and for oligarchs, not a national assembly.
Leave a Reply
You must be logged in to post a comment.