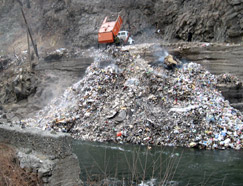 Armenia may be the smallest of all ex-Soviet countries, but when it comes to damaging the environment it shows little modesty.
Writing in Armenian, Hetq.am posts a photo of resident and economic trash being dumped into the River Debed in the northern city of Alaverdi.
Most ironically, the contractor that dumps the waste three times a week is named "Bettering Alaverdi."
2 Responses to "Armenia: "Bettering" Co. Dumps Trash into the River"
Hayaser on 16 Feb 2009 at 6:04 am #

its not enough our enemies have shit on us, our own ppl/gov't shits on our homeland too. should i send my trash to him too so he can "better" it for me. stupid shit ass loser. i hope someone throws him into a river…a deep one !
Leave a Reply
You must be logged in to post a comment.