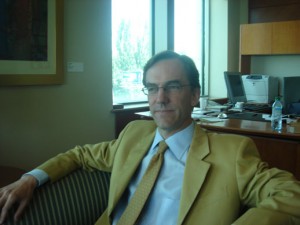 As diplomatic as the head of the U.S. Embassy Joseph Pennington is on record, America's Chargé d'Affaires in Armenia cannot hide his love and sorrow for the tiny ex-Soviet republic he's been working in since July 18, 2007. He is amazed with the Armenian people's hospitality, and, without doubt, has many friends in the capital Yerevan. Equally, he resonates with ordinary peoples' outrage against blatant inequality before the law – explaining that institutionalized change in the public sector will make people more tolerant and patient toward economic improvement. He also has to admit that the post-election March 1 clash between opposition supporters and the police, as a result of which at least 10 people died, has "complicated the relationship" with Armenia's government. Yet he is hopeful; and regards current affairs as "good" and "productive."
Pennington's wife and my good friend Amberin Zaman, a journalist for The Economist, was also present at this special interview with the chief of the U.S. mission in Yerevan on July 28, 2008. 
Pennington's desk is well organized with Armenian newspapers laying there. "Can you read Armenian?!" Pennington blushes "yes." The well-trained diplomat's office looks to the barely visible chapel of Yerablur – burial grounds for Armenian soldiers who fought in the Karabakh war. Pennington hasn't been to Yerablur and, until our meeting, doesn't know that the minute object on a hill several miles away is part of Yerablur.
Unlike in the case of the monument, Pennington recognizes the tragic consequences of the conflict with Azerbaijan. I ask him about the destruction of Jugha – the largest medieval Armenian cemetery reduced to dust by Azerbaijan in 2005. I know that Pennington has watched my film (Amberin told me so a long time ago), and I know that he cares. But as a U.S. diplomat, he has to give me the same answer – "As a general matter, we encourage countries to preserve cultural monuments." 
The young diplomat seems open to change, but until U.S. policy shifts, neither he nor any other person in his place will use the word "genocide."  Instead, they will continue to speak of "mass killings, ethnic cleansing" or simply "the events of 1915." As a political science major, I understand where he is coming from. Yet I play devil's advocate and press on. The beautiful Amberin Zaman jumps in and asks her husband to tell me about their experience at the "Genocide Memorial and Museum" in Yerevan, which Pennington calls Tsitsernakaberd like locals do. The g-word is not the only way of acknowledging a history that haunts today's reality.
Pennington tells me how he and Amberin spent four hours at Tsitsernakaberd two weeks ago. Hayk Demoyan, the Museum's director, showed them a recently arrived shipment from the US of lace, art work and toys made and used by Armenians – including survivors who ended up in orphanages — before the Genocide. I read pain in Pennington's voice – pain for an entire people and its culture lost — and perhaps also regret for not being able to speak about these events more directly in his official capacity.
Amberin Zaman reminds me to ask about the Turkish-Armenian relationship, a topic dear to her heart. (I had encouraged her to advise me during my interview as a professional journalist). Pennington gets excited. He says that the rhetoric in the last six months between Armenia and Turkey has been very positive. He calls Armenia's president Serge Sargsyan's invitation to Turkish president Abdullah Gul to watch a football match in Yerevan between both countries "a brilliant idea." Then he asks me if I have roots in Anatolia. I smile and start the list: Urfa, Diyarbakir, Istanbul, Bayazet. He says that he hopes that the border will open soon – I nod in a hopefully romantic agreement. 
While Pennington enjoys his job, he also has his worries. A few days after our meeting, the opposition will hold another protest on August 1, 2008. I ask Pennington whether George W. Bush ever congratulated Sargsyan for his election. He says "no," and I understand that Armenia's president is standing on somewhat shaky ground. Like another friend suggested later on that day, perhaps Sargsyan can use March 1 as an opportunity to rethink political power and bring change to Armenia – such as eliminating monopoly.
Seemingly tireless, Pennington is actually tired of one thing– having to do the duties of the Ambassador. After the firing of John Evans, America's last Ambassador to Armenia who used the word "genocide" in public, Congress hasn't been able to confirm an envoy (until August 1, 2008 when Marie L. Yovanovitch was confirmed as Ambassador) due to pressure by many Armenian-Americans. This was a topic I didn't bring up. But as I had entered the Embassy, I saw a photo of John Evans, along with other former Ambassadors to Armenia, hanging on a wall. I looked at the photo with much pride. Speaking truth to power had place, although small, in a building representing the United States. But commitment can work in other ways too.  
There are many things about Pennington that cry love for Armenia. Large, framed photographs of pomegranates, books about Armenia and its history are all over his office. Turkish researcher Osman Koker's magnificent collection of Turkey's Armenian heritage in old postcards is on his table – an invitation to guests to browse through a history that is thought to be forever lost. You can feel the Armenian spirit in an office that is sponsored to represent what America's current administration defines as U.S. interests. Diplomatic or otherwise, Pennington has been the right guy for Armenia.
8 Responses to "In the U.S. Embassy in Armenia"
Leave a Reply
You must be logged in to post a comment.