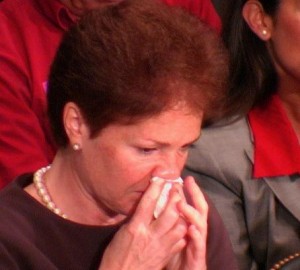 In a few hours, the U.S. Senate will vote on Bush's Ambassadorial nominee to Armenia. We predict that Marie Yovanovitch will be confirmed. And the question is whether the previous nominee was denied because of not using the word genocide or because of being gay.
Making clear that she can't use the word 'genocide' in referring to the Armenian extermination of WWI due to Bush's foreign policy not to use the term, ambassadorial nominee Marie Yovanovitch's Senate hearing became quite stressful last week.
She will most likely get the Senate confirmation given her honest hint that ANY Bush nominee would follow the order not to use the term genocide. Yet it wasn't easy to deliver this message.
A photo posted (surprisingly) by the State Department sponsored Voice of America's Armenian page, shows Marie Yovanovitch cleaning her nose during the hearing. More interestingly, the Armenian report refers to the Armenian genocide without quotation marks – something that U.S. State Department officials are not allowed to do themselves.
While it seems like Yovanovitch will be confirmed as the Ambassador despite that she follows her employer's orders, one wonders whether the Genocide issue was the decisive factor in previous nominee Richard Hoagland's failure to get the confirmation.
On January 12, 2007, the Armenian-language Hayastani Hanareptutyun (Republic of Armenia) wrote of some concerns in Armenia about Hoagland's open homosexuality. According to the newspaper, the editor of Armenia's Azg Daily, Hakob Avetiqyan (Hagop Avedikian), said during a press talk seating along with an ARF (Dashnaktustyun leader):
«Շատ անխոհեմ նշանակում էր սա՝ անկախ ցեղասպանության հարցից։ Անխոհեմ, քանզի Հայաստան, որտեղ ավանդապաշտությունը բավական կարեւոր գործոն է, ուղարկել մեկին, որը ոչ ավանդական սեռական կողմնորոշում ունի, չի բխում նաեւ Միացյալ Նահանգների շահերից»։(This was a very inconsiderate appointment [nomination] despite the question of the genocide. Inconsiderate, because sending somone who doesn't have traditional sexual orientation to Armenia – a country where tradition-worshiping is a quite important factor – is not in the interests of the United States.)
As unzipped reported last year, Armenia's anti-Semite and homophobic leader of "Armenian-Aryans" Armen Ayvazyan thanked those who ""freed the Armenian nation from the sad perspective of having a sick Ambassador, who was also denying the reality of the Armenian Genocide." While Ayvazyan is not, to say the least, a popular figure in Armenia, Azg Daily editor's open announcement that it is not a good decision to send a homosexual ambassador to Armenia seems worrysome.
Indeed, the editor was seating next to one of the leaders of the ARF (known as ANCA in the U.S.), the organization which heavily campaigned against the Hoagland nomination in 2007. This year, interestingly, ANCA hasn't been actively campaigning against the new nomination. One reason might perhaps be the recent image-damaging violent post-election protest in Armenia. The new ambassador might be a compromise for continuous U.S. assistance to Armenia despite the recent poor democratic record.
Hoagland's G-factor still seems important. Was it his refusal (without another choice) to say "genocide" or him being gay that cost him his job? Or maybe because tensions were high given the firing of Ambassador Evans – the only U.S. official in the Bush administration who openly recognized the Armenian Genocide?
3 Responses to ""G" Factor: Did Genocide or Gay Trouble U.S. Envoy?"
Hayaser on 24 Jun 2008 at 7:01 pm #

yavanovich is another zionist JEW, who has to follow orders given to her by her masters of the universe zionist jews.
she has no choice to deny genocide, even Evans denied our genocide when he was set up for confirmation hearings. only now years later after experiencing Hayastan and us Hays he came to grow to love/adore us and now he decided to disobey direct JEWISH orders and admit to genocide and he was not scared and he shouldn't be. although now his career is over, but he still stands proud for openly supporting Hays for genocide recognition and i comend him for it. whether HOAGLAND MOAGLAND is GAY or NOT, no foreign ambassador of any country who denies the AG should not be allowed to serve as that ambassador to Hayastan

and PRAISE ARMEN AYVAZYAN for being iskakan HAYASER
I praise him for wanting to KEEP HAYUYUN and HAYS as ARYANS, because that is who we are. we Hays are the original ARYANS. Aryanism began in the plains and caucas mountains of Hayastan. ARYAN HAYS FOREVER. those who refer to themselves as HAYS and denounce this ARYANism should cleanse & remove themselves of Hayutyun, and NO….Ayranism is not that zeig hail hitler shit, real Aryanism is not swastika nazism shit. i denounce all skin heads who have ruined Aryan identity

Hrag on 24 Jun 2008 at 7:20 pm #

This was an old rumor but there is no evidence to prove that Hoagland's dismissal had anything to do with his sexual identity. Lest we forget, he did serve in the more homophobic nation of Tajikistan before being considered for Armenia.

armen on 24 Jun 2008 at 9:58 pm #

i protested against hoagland's nominee because he went out of his way to deny the armenian genocide by raising doubt on its history and using the same lines of denial as Turks do. I will not protest against the new proposed ambassador because she did not deny the armenian genocide but instead said that the official US policy which is out of her control doesn't permit the use of the word "genocide". So the difference in the two candidates is huge, whereas one used denialist argument and the other said she is officially not allowed to use that word to describe the mass killings (the current cirmustances leave no option for US diplomats).

Moreover, this is the first time I'm hearing Richard Hoagland is gay, if anyone suggests those protesting hoagland for that purpose, then they probably have no clue regarding the diaspora's struggle for genocide recognition led by ANCA.
Leave a Reply
You must be logged in to post a comment.