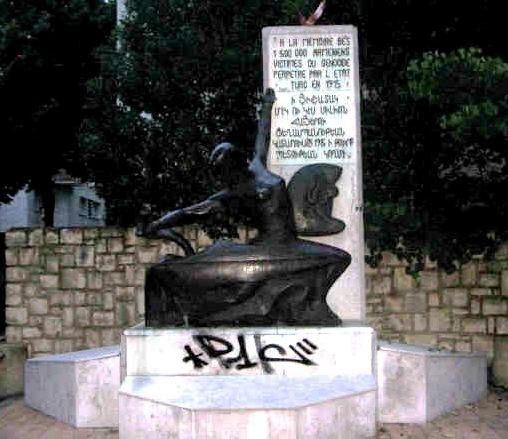 Image received from Jean Eckian in an e-mail
via PanArmenian.net:
The Memorial to the Armenians Genocide victims was desecrated in Valence, France, on May 15 [2008] night. The vandals painted an illegible inscription on the monument base, independent French journalist Jean Eckian told PanARMENIAN.Net.
The Coordination Council of the French Armenian Organizations from Drome-Ardeche area's (COADA) deposited a complaint to the Police office of Valence.
7 Armenian memorials – in Saint-Chamond, Creteil, Lyon, Valence (France), Cardiff (UK), Budapest (Hungary) and Lviv (Ukraine) – have been desecrated since January 2008.
One Response to "France: Base of Genocide Monument Vandalized with Graffiti"
Leave a Reply
You must be logged in to post a comment.