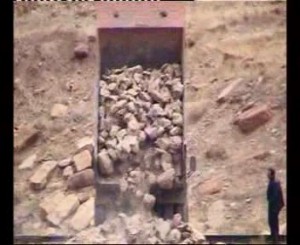 Video snapshot: An Azerbaijani truck dumps ancient Armenian gravestones, khachkars, into the River Arax in December 2005. The destruction ammounted to the complete annihilation of the world's largest medieval Armenian cemetery, Djulfa. For more photos see www.djulfa.com/photos/
Armenia's ex-presidential candidate Vahan Hovhannisian from the Armenian Revolutionary Federation (Dashnaktsutyun) has said that the December 2005 destruction of Djulfa (Jugha) cemetery by Azerbaijan should have been the point for Armenia to pull out of negotiations with Azerbaijan over the conflict of Nagorno Karabakh (Artsakh).
Hovhannisian is quoted in ArmeniaNow as saying: "The day Azerbaijan began to barbarically destroy the monuments in Jugha, we had to leave the negotiation process. You would see what would happen: they would try to keep us, would seek our forgiveness."
I am not sure whether I agree with Hovhannisyan or not. Although I have devoted the last two years working for Djulfa awareness (and today received my University's Outstanding Undergraduate Award largely for my work on Djulfa) and am currently writing my honors thesis on its legal implications, Azerbaijan might be looking for an excuse to militarily attack Armenia. 
The deputy is correct in the sense that the destruction and its aftermath should be in the top list of Armenia's ongoing talks with Azerbaijan.
Leave a Reply
You must be logged in to post a comment.