Many people I have talked to believe the number of those killed in the post-election protests in Armenia is much higher than the reported nine.
And while police have released the names of only four who were killed, the list doesn't include women. This is not in line with the widely-circulated rumor, and the photograph below, that a woman was run over by a police car.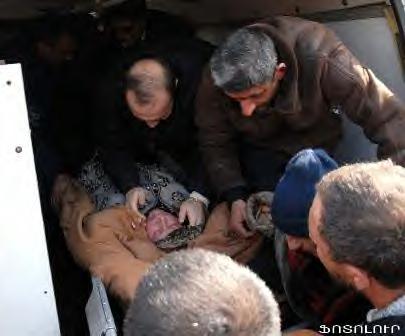 Image: A woman, run over by the police, is said to have died while the incomplete list of the killed, released by the police, has only males. Photo from Fotolure via AlPlus' Blog.
In the meantime, an announcement on the official website of Armenia's police– summarizing a video appearance – claims that the first shots were fired by some of the protesters. Chief Gegham Petrosyan's announcement in Armenian states in part:
[…]

As soldiers of the Armenian army approached the barricades, stones and sharp metals were thrown on them – gun was fired [on the soldiers].As a servant of the Armenian army it was impossible for me to imagine that an Armenian would shoot on an Armenian soldier…

We ended up with a pretty large number of wounded and stepped back. It was only at this time that it was ordered to arm the personnel with numbered weaponry.

[…]

 
Interestingly, "the Organization for Security and Cooperation in Europe (OSCE) lays the blame for Saturday's violence on the streets of Yerevan with both the authorities and supporters of the former president, Levon Ter-Petrossian."  Neither the authorities nor the opposition agree with the statement – both blaming the other for unrest and illegal behavior.
And according to another rumor, Armenia's spiritual leader – the Catholicos – has attempted to visit the former president to ask for reconciliation with the authorities. The Catholicos was, reportedly, turned away at Levon Ter-Petrosyan's door.
5 Responses to "Armenia: Rumors Say Deaths Underreported; Police Blame Opposition"
Leave a Reply
You must be logged in to post a comment.