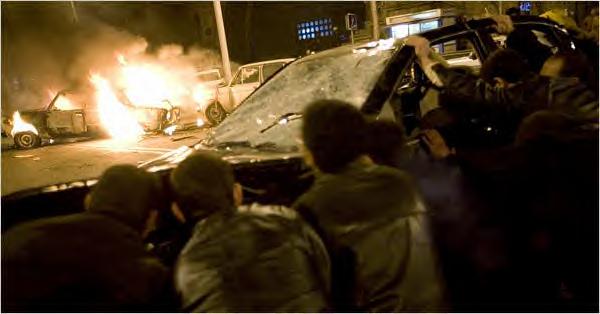 Image from The New York Times
Presidential candidate Levon Ter-Petrosyan's March 2, 2008 announcement of ending the street protests in Yerevan, posted at his website, blames government "agents" for rioting and looting on the night of March 1, 2008.
The announcement, posted in Armenian, states:
[…]

The authorities' provocations were continued by their agents who – being quite far from the [actual] protest – broke windows of stores, looted some shops and damaged cars on Mashtots Avenue.

[…]
3 Responses to "Armenia: Opposition Blames Government "Agents" for Looting and Riots"
Onnik Krikorian on 02 Mar 2008 at 12:59 pm #

Yeah, right…

artsagh girl on 03 Mar 2008 at 12:54 pm #

March 3, 2008 at 12:14 pm
Yeah right? Meaning what?

I just received a phone call from Yerevan, from a reliable source. This person is a surgeon who was in Karabagh during the fighting and knows the various fedayeen from around Armenia and Karabagh. This person states that on Mashtots street, by the Pag Shuga, a group of soldiers from the Shushi battalion opened fire on the crowd. There was no warning for anyone to disperse. The soldiers simply aimed into the crowd and began to fire. At this time, the crowd was not doing anything. The eyewitness then saw the same soldiers shoot out shop windows. They also set fire to the ambulance this person was using to transport a wounded civilian. Two people were shot next to the eyewitness. Both died. The eyewitness has been operating on wounded since yesterday. All who were shot were shot by Karabagh soldiers. There was no rioting and this is not like LA. It's like, well, a dictator who is going to remind people that he will keep power at all costs.

I know Robert and Serge. I knew fedayeen. Serge and Robert are not of that class.

The tremendous social and economic disruptions of the late 1980's and early 1990's (blockade, war, earthquake, dissolution of USSR) shattered the existing social networks in Armenia. With that amount of disruption, for lack of a better term in a short space, one cannot assume that the "best and brightest" will rise to the top. It's not cream. Rather, the chaos created an environment where any idiot could get rich. Idiots don't rely on merit- they use force. So the result is a society where idiots with guns are in charge.

artsagh girl on 03 Mar 2008 at 5:43 pm #

Just got a call from Yerevan. Shooting was done by a particular battalion from Karabagh — the Shushi battalion. This battalion, run by Vatcho and his clan, are about taking and keeping power so they can live comfortably. These are not nice guys, not particularly educated nor sophisticated. They shot into a crowd of people without warning. They also shot out store windows and set fire to vehicles.
Leave a Reply
You must be logged in to post a comment.