Who would think that another genocide would be denied in the Republic of Turkey? But here you go – it is time for Darfur.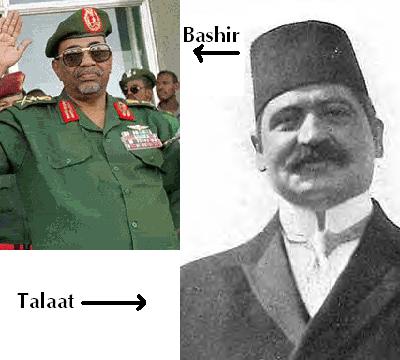 The head of Sudan's genocidal regime Omar al-Bashir "the Sudanese Talaat" is in Ankara, reports The New York Times, where the African dictator has not only denied the genocide in Sudan's region of Darfur but has also justified the government promotion of Musa Hilal – one of the commanders of the Darfuri massacres.
On an official visit to Turkey, Mr. Bashir described the sheik, Musa Hilal, as a Sudanese citizen who is influential in Darfur and has "contributed greatly to stability and security in the region," Reuters reported from Ankara, Turkey's capital.

"We in Sudan believe that those accusations against Mr. Hilal are untrue," Turkey's state-run Anatolian News Agency quoted Mr. Bashir as saying. "Right now in Darfur, the real murderers are those who are aided by Europe and others."

Mr. Musa is believed to be a leader of the janjaweed, Arab militia forces that have committed mass killings of civilians in Darfur. The conflict has also displaced 2.5 million people in less than five years.
Bashir seems to have learned a lot from the Republic of Turkey – a country that itself denies the Armenian Genocide. Bashir's statement that "the real murderers are those who are aided by Europe and others" is an implication that the indigenous people of Darfur – who are still being massacred – are "traitors" and they are "criminals." Just like Talaat, the architect of the Armenian Genocide, had said that Armenians only had themselves to blame.
One Response to "Sudan's Talaat Visits Ankara"
Leave a Reply
You must be logged in to post a comment.