A columnist in Lebanon calls for establishing Commemoration Day for the Destruction and Desecration of Nakhichevan's Armenian Heritage in an article on  the eve of the second anniversary of the world's largest ancient Armenian cemetery's demolition by the Republic of Azerbaijan.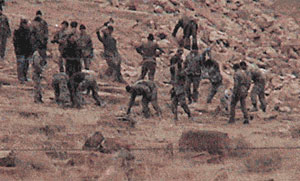 Writing for Lebanon's largest Armenian-language daily newspaper, Azdag Daily, columnist Avo Katrjian recalls in his December 12, 2007 (received in e-mail as .pdf) piece that two years ago this month Azerbaijani servicemen were videotaped as destroying cemetery memorials in an ancient Armenian site that testified to the long presence of the Armenian people in Nakhichevan.
The article draws parallels of Turkey's treatment to Armenian monuments to that of Azerbaijan's and concludes that there are the same.  It would be fair, nonetheless, to note that there are many Armenian monuments that still stand in Turkey while in the Republic of Azerbaijan every single one of them have been reduced to dust.
As Azerbaijan has been denying the destruction by claiming that there have never been Armenian monuments in Nakhichevan because Armenians didn't live there, Katrjian reminds that Nakhichevan's flag adopted in 1937 – when Nakhichevan was already part of Soviet Azerbaijan – had the word "Nakhichevan" written in Armenian and Azerbaijani.
Wikipedia has the 1937 Nakhichevan flag (said to be Soviet Nakhichevan's very first) posted in its short entry on Nakhichevan ASSR (or the Nakhchivan Autonomous Soviet Socialist Republic).
The full post is available at Djulfa Blog.