Mark Elrod has an interesting entry on the Armenian Genocide bill:
[…]  

If you've ever wondered if the Bush administration's foreign policy is driven by realpolitik rather than a genuine interest in human rights of their citizens, consider the question, "When is a genocide not really a genocide?"

When it happened ninety years ago.
When it happened to a group of people that most Americans have never heard of.
When those same people have no tangible assets or raw materials that effect our economic interests.
When the perpetrators are an important ally.
When you can call it something else and get away with it.
Visualize history: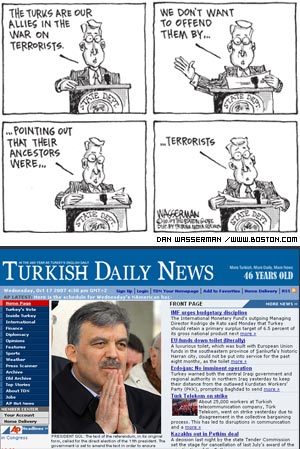 Map of what is now Turkey showing areas inhabited by Armenians in 1915. Turkey has condemned a vote by a US House of Representatives committee branding the World War I Armenian Genocide as such and urged them not to take it to a full vote.(AFP Graphic)
Leave a Reply
You must be logged in to post a comment.