Turkey finally got the news that Rocky has decided to shoot a movie on the Armenian Genocide.
http://english.sabah.com.tr/9E23BE38DE0843…5AF0141E28.html
Protest of 'Rocky's genocide movie
The famous American actor, known globally for his series of 'Rocky' movies, Slyvester Stallone, has received reactions after he declared he is going to shoot a movie that deals with the Armenian genocide. Turkish associations have been moved to take action after the famous actor announced that he will shoot a movie based on the book entitled, "40 days at Mount Moses" by Franz Werfel, which tells of the murders of Armenians by Turks. The associations are getting ready to bombard him with protest letters.
Cartoon from GIBRAHAYER e-magazine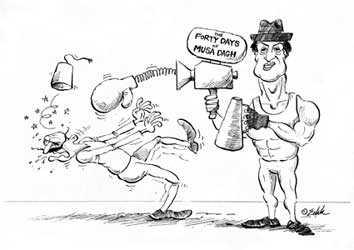 Leave a Reply
You must be logged in to post a comment.