While Armenia's president Serge Sargsyan and his Turkish counterpart Abdullah Gul are making history with joining hands at an unprecedented sports match between their countries on September 6, 2008, the two men behind this football dialogue may be U.S. presidential candidate Barack Obama and assassinated Armenian-Turkish journalist Hrant Dink.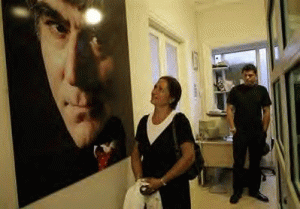 Image: Rakel Dink, widow of the slain Turkish-Armenian journalist Hrant Dink, accompanied by her son Arat Dink in the background, looks at his husband's picture at the headquarters of Agos newspaper in Istanbul, Turkey, Friday, Sept. 5, 2008. Turkey and Armenia are hoping football diplomacy will help them overcome decades of antagonism rooted in Ottoman-era genocide of Armenians. Turkish President Abdullah Gul travels to Armenia on Saturday to attend a football match between the two historic foes, becoming the first Turkish leader to set foot in Armenia since the ex-Soviet nation declared independence in 1991. (AP Photo/Ibrahim Usta)
Both an opportunity for economic boost for landlocked Armenia and an opportunity for restoring international image for Turkey, the football match between the two in Yerevan couldn't have taken place two years ago. And while many Armenians and Turks on both sides may be angry over this football dialogue due to the issue of the Armenian genocide – that exact experience of extermination, fight for recognition and institutionalized denial is what brings Dink and Obama to the stadium.
Hrant Dink, who was assassinated in Istanbul by a young Turkish ultra-nationalist in January 2007, campaigned for Armenian-Turkish reconciliation. His death, followed by some of the largest marches in Turkey's history, showed much of the Turkey's society that there is possibility for Armenians to be victim in Turkey. It also showed to Armenians that Turks are capable, yet not necessarily ready, of recognizing wrongs in their history.
A while ago I wondered whether Hrant Dink's death would be the icebreaker in the Armenian-Turkish dialogue, and it seems that Hrant Dink did pave the path to Yerevan's soccer stadium.
While Dink likely never met Barack Obama, the U.S. presidential candidate has his hands in this football dialogue as well – even though he may be completely unaware of it. Obama's pronounced and unprecedented support for the recognition of the Armenian genocide worries Turks. He has spoken on the genocide on several occasions, including making an official statement and standing up to nationalist Azeri journalists in Baku.  
While Obama's candidacy was first met with fierce reaction in Turkey, now more moderate articles support his general approach in dealing with the world. Turkish diplomats have seem to have admitted that America might have a principled politician who will speak unreservedly on the Armenian genocide, but they also have to do everything to compel Obama to do otherwise.
Don't get me wrong – not all Turks deny the Armenian genocide out of hatred toward Armenians. Turkey's president Gul, I am quite convinced, would recognize the Armenian genocide if he could afford that. But his moderate presidency is on shaky grounds in a country where fascist ultra-nationalist sentiment is more than half of the time a conventional mood.  
Gul will argue to Obama that he is doing his best to reconcile with Armenia, and an official recognition by the United States would jeopardize the process. The football dialogue, Gul will point to, was a huge risk to take (and it is). For the sake of the ultimate benefit of Armenia, recognizing the genocide at a time when nationalist sentiment is high in Turkey – Gul will argue – is poor judgment.
Whether Obama will stay an inspiration for today's football dialogue or also become a victim of that match on April 24 is difficult to say. His running mate Joe Biden says Armenia has no better friends than the Vice Presidential nominee, but principles are not as firm in politics as in soccer.
One person who died for his principles, Hrant Dink, would have been happy and worried with the football dialogue. As one Turkish columnist points out, Gul's visit to Yerevan is, in a way, tribute to Dink.