One wouldn't expect the webmasters of Yahoo.com's homepage be academics, but being blatant racists isn't too helpful either.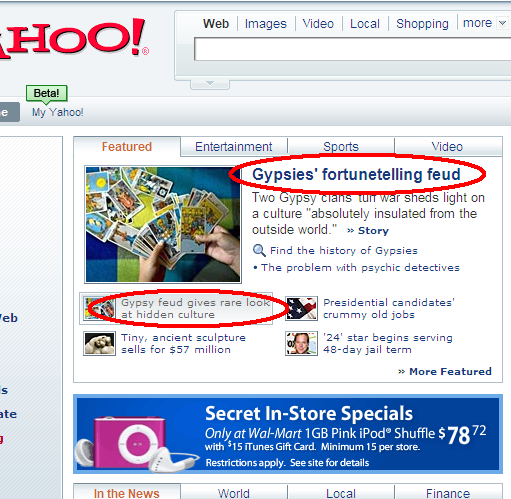 Linking to an Associated Press article about business controversy of two Romani "clans," Yahoo! summarized the news on its homepage several hours ago as "Gypsies' fortunetelling feud" and that "Gypsy feud gives rare look at hidden culture." 
From the first look, there is nothing wrong with the title, but consider how we'd feel if it said "Jews' fortunetelling feud" or for that matter "Jews' jewelry feud" or "Armenians' jewelry feud."  This is in lines with popular stereotype and racism against the Romani people, most of who prefer not to be called Gypsy (one reason the omnipresent racism against them), as seen in American TV icon Judge Judy's racist comments and her usage of the word "Gypsy" as a derogatory term.
The Associated Press article itself is not free of stereotype; the whole style of the article is somewhat arrogant and presents Gypsies as an essentialist entity.  Although it takes a note that Gypsies faced persecution in Europe after migrating there in the 1300s, there is no reference to the Gypsy Genocide – part of the Holocaust – in which about half million Gypsies were mass murdered, a fact hardly mentioned in the context of Holocaust studies within the popular culture in the United States.  And more importantly, no reference to the unchallenged, blatant, dehumanizing and delegitimazing racism against the "Gypsies" in the United States.
I think Yahoo! the ®acists owe an apology to the Roma people.
4 Responses to "Yahoo! the ®acist"
Leave a Reply
You must be logged in to post a comment.